Upcoming Diversity & Inclusion 411: Webinars

Cultural/Ethnic Sensitivity
Wednesday May 22, 2:30 pm
Changing Family Dynamics/Work Life Balance
Thursday, June 6th, 3:30 pm
Gender Trends and your Workplace
Monday August 5th, 1:30 pm
Military: Transitions and Reintegration
Thursday, Sept 12th, 2:30 pm
Webinar descriptions and registration information posted on Facebook and AZSHRM.org Webinars will be recorded, and are FREE courtesy of AZ SHRM.
  DISC services

Includes:
Your personalized DISC assessment (Classic or Biblical)
DISC Work teams or Group Reports
DISC Relationship report for couples or families
Individual, Family or Couples Coaching

Workshops available:
Creating High Performing Teams
Building Effective Teams
DISCover the Leader God Created You to Be
DISCover the Person God Created You to Be
What is Classic DISC?
Classic DISC is an online assessment that will help you uncover your behavioral style. Upon completing the assessment, you will receive a detailed report with insights and ideas to help you better understand your unique strengths and challenges as a leader. Classic DISC is the most widely used behavioral model in the world, and has helped millions of people improve communication, productivity, team building, leadership, and relationships at work and home.
The Classic DISC model of human behavior provides a common language to help people understand themselves and others. Research has shown that human behavior can be categorized into four basic categories that create multiple patterns.
DISC = Dominance, Influence, Steadiness, Conscientiousness
The Biblical DISC Assessment focuses on patterns of external, observable behavior that each style exhibits. The model is simple, practical, and easy to remember and use.

The Biblical Component
We've expanded the very useful Classic DISC model to include biblical analysis. In your report you will learn about the people from the Bible who demonstrated similar behavioral characteristics. In keeping with our mission to help you lead like Jesus, we'll also show you how Jesus modeled each behavioral trait perfectly.
Understanding behavioral patterns helps you leverage your God-given strengths and improve your natural weaknesses. It also provides extra insight into how other people were created, which gives you opportunity to better lead and minister to them.
The Biblical DISC® assessment is designed to describe your patterns of behavior, but cannot capture all the nuances and should not lock you into a certain type of behavior. It is only a useful tool.

Leverage Your Strengths
Understand your God-given strengths and how Jesus and biblical people displayed the same characteristics.

Understand Others
Learn about common behavioral patterns to better understand the people you work with and lead.

Learn Common Language
Use the language of Classic DISC to identify and discuss behavioral tendencies with clarity.

Biblical DISC® can help you:


View Sample Results!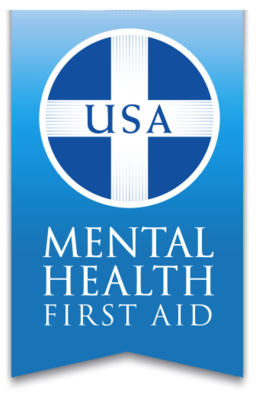 Just as CPR helps you assist an individual having a heart attack, Mental Health First Aid helps you assist someone experiencing a mental health or substance use-related crisis.

In the Mental Health First Aid course, you learn risk factors and warning signs for mental health and addiction concerns, strategies for how to help someone in both crisis and non-crisis situations, and where to turn for help.

Topics Covered:


• Depression and mood disorders
• Anxiety disorders
• Trauma
• Psychosis
• Substance Use disorders


Mental Health First Aid teaches about recovery and resiliency – the belief that individuals experiencing these challenges can and do get better, and use their strengths to stay well.
This program is applicable to those working with youth, veterans, in faith and spiritual communities, in education, and in any workplace. If you work with people, this is for you--because mental health impacts each one of us.