Become a Fitness Coach or Instructor

Register for our upcoming trainings: Reserve your spot!
Bikini Body Camp 
HIIT - 30  
Barre and Yoga SHREDDED 
Athlete Strength Program 
Healthy Fit Seniors  
MMA Cardio Kick  
Stretch, Mobility and Recovery  
Add any one of these to your toolkit or become a group fitness instructor with these easy-to-learn formats.
Our formats are results-driven. We help you to become an instructor who is safe, knowledgeable, motivating, and supportive. 
Our motto is "Health and wellness looks good on every body" -- and we want YOU to help clients of all fitness levels and abilities to create healthier, sustainable lifestyles.
Zero licensing fees
Industry trending hot formats
Customized implementation plan (for any location, from a gym, boutique studio, park or virtual class) and support
Easy to follow workout protocol that appeals to clients
Easy to learn for new instructors or seasoned instructors who teach a lot of classes
Access to branded marketing materials
Online virtual instructor training - complete on your schedule!
Highlights of our programs:
For all fitness levels and abilities, with options to challenge any participant and make everyone feel successful.

Class formats are completely customizable to accommodate any time slot, with or without equipment, in any location.

Teach anywhere – your garage, parks, a retirement community, a gym or even virtually.

Use the templates provided in certification to create a workout, or use one of our pre-designed workouts.

Access new workouts every month (with a subscription - $19.99/mo) so your workouts are always fresh.

Discounts for instructors with more than one format! 

No gym license fees and no CEUs or subscriptions to maintain your ability to teach the class.
We offer online training, certification, and content. You can learn at your own pace, as your schedule permits, through our pre-recorded virtual training. 
Topics in the training include:
Introduction to our programs and creator. Our fitness philosophy

Exercise Science background

Safety and options for all fitness levels and abilities

Class structure and workout protocols

Using timers and music

Equipment

Social media and growing your class

Cueing and Motivating your class
LIVE certification events are also available, with access to online tools for review. 
Additionally, there are ongoing learning opportunities to improve your skills and grow your classes! This includes online workshops and LIVE programs to make you the best fitness professional you can be.
Finally, we offer online tools available to support your participants' success. These include nutrition and total body wellness education, tracking tools, and access to workouts!
Our participants practice the program and submit a short sample workout video that you can film from your laptop, tablet, or smartphone. This allows us to help you grow as an instructor and get feedback to strengthen your skillset. 
Register for our upcoming trainings: Reserve your spot!
Check out our Facebook pages:
Welcome to the Healthy Fit family!
Our Programs were founded on the idea the Health and Wellness look good on Every Body. We take a whole-health approach to wellness, helping educate our class participants on health and wellness topics, nutrition, and functional fitness to improve their daily life.
We support our instructors with low-cost education and support materials to help your clients be successful in creating a healthier lifestyle and sustain it.
Our programs are flexible - you can teach them with the equipment you have available (or no equipment). You can teach them at a small studio, big box gym, park, or even your garage.
Designed with clients of all fitness levels in mind, we provide scaled options to make everyone feel successful in your class, while still being challenged and working safely.
Participation in the training
As a part of your training, whether you participate live or virtually, you will experience a variety of learning activities in order to:
Understand fitness concepts

Review kinesiology and the science behind our programs

Practice movement technique

Lead and cue others and motivate your class
This training was designed by Kella Price, our fitness content creator and expert who understands what you need as a coach, group fitness instructor, or personal trainers in order to thrive and succeed. 
We want our Healthy Fit team to be the strong, knowledgeable instructors. Part of continually being better is to be open to feedback. The Master Trainer will be able to tell you where your strengths and opportunities for improvement are through your practice activities and video assessment.  While some instructors in the training group may be experienced teaching classes, some will be brand-new. Each person will learn and improve their skills while becoming comfortable with our format.
What programs we offer
Healthy Fit Seniors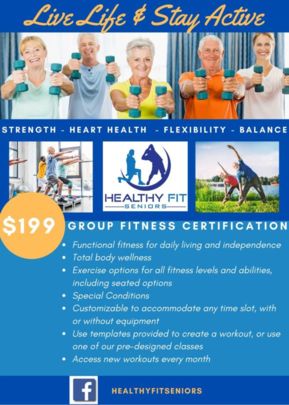 This promotes greater health engagement and accountability by providing these seniors with regular exercise (strength training,
aerobics, flexibility) and social opportunities to maintain activity level, and prevent health costs associated with chronic disease, depression and other emotional health factors, trip and fall injuries, and diabetes.
Goals:
Provide a positive social environment for aging seniors

Create health and nutrition education to support senior learning about the effects of

nutrition and physical activity on their health and aging

Support age-appropriate instruction on how to live a healthier, independent lifestyle

Use resources to integrate nutrition education, physical activity and health into a

supportive social setting
Sample workout: https://youtu.be/AxTrxZBTP9E
Register for our upcoming trainings: Reserve your spot!  
Bikini Body Camp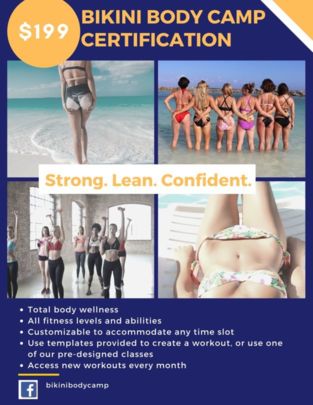 Do you want to stay lean and fit year round to look good and feel confident in your swimsuit? 
Whether you want to be in a bikini competition or feel amazing in your swimsuit for your next family vacation, you can achieve these goals!
 classes include total body workouts, with a variety of core and leg exercises to tighten and tone those areas.  Get rid of flab, reduce inches and lose weight. Feel stronger, more confident, and comfortable in your own skin. Relieve stress and clear your mind of negative when you focus on your goals with us.
Our program uses weight training, body weight exercises, and HIIT to target and challenge the muscles for effective toning in a quick and effective workout.
Sample workout: https://youtu.be/pTU8PBnjh2o
Register for our upcoming trainings: Reserve your spot!  
HIIT - 30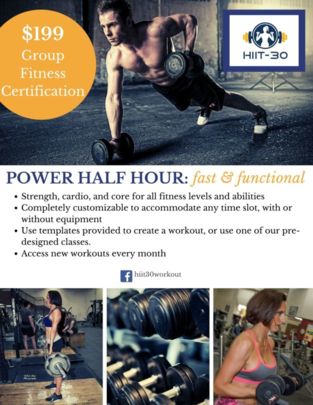 Is a high intensity, total body conditioning program.  We have periods of high intensity work, followed by rest or a lower-intensity exercise, resulting in more calories burned, faster results, and a more efficient metabolism.
The class exercises offer options for all fitness levels and abilities, providing a safe, challenging, and results-driven experience.
Benefits of the program include:
Fat-burning, even after the workout has ended

Improved cardiovascular health

Full body workout with functional movements that will make you stronger and more effective in daily life activities.
Sample workout: https://youtu.be/FdXOt2J_12Q
Register for our upcoming trainings: Reserve your spot! 
MMA Cardio Kick
This workout is MMA-inspired, using Boxing, Kickboxing and Muay Thai movements plus engaging your core and using strength-building exercises to reduce body fat and inches, toning your entire body.  This total body workout includes HIIT training to burn calories and build cardiovascular health, one round at a time. As with all of our programs, we have options for all fitness levels and abilities.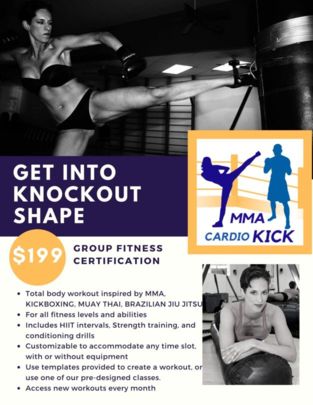 Sample workout: https://youtu.be/zRMB7eWnIQU
Register for our upcoming trainings: Reserve your spot!  
Barre and Yoga SHREDDED
A high-energy, fun and challenging total body workout that will get your heart rate up, lift your booty, and tone and tighten. Whether we use a ballet-style barre, a chair, or do work center-floor, this class incorporates isometric movements, Pilates, yoga, high-intensity and strength, ballet, core work, cardio and resistance training. This is a low impact workout, with high intensity movements to get results. This workout is designed for wide range of fitness levels, ages and bodies, complete with progressions so those new to fitness feel successful their first time and seasoned barre and yoga enthusiasts will always feel challenged.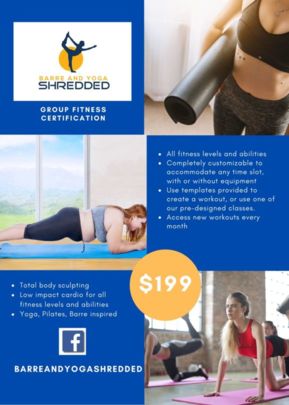 Sample workout: https://youtu.be/5_p6sqXH8-k
Register for our upcoming trainings: Reserve your spot! 
Stretch Mobility and Recovery
Learn self-myofascial release to stretch and lengthen muscles, improve mobility and speed recovery. This reduces pain and allows you to return to your next workout ready to crush it. You will learn techniques from head to toe, including wall or chair options, to apply to any client. 
Benefits of Self Myofascial Release:
Corrects Muscle Imbalances

Improves Joint Range of Motion 

Relieves Muscle Soreness and Joint Stress

Improves Neuromuscular Efficiency

Relaxes our Muscles

Provides Optimal Length-Tension relationships
Sample workout: https://youtu.be/yz0RGY-jtB0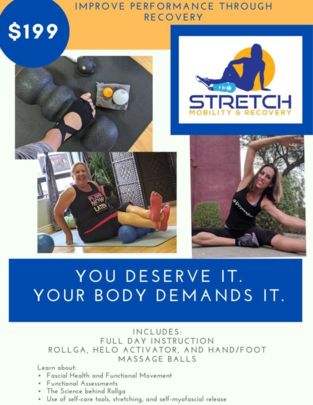 Athlete Strength
Sample workout: https://youtu.be/EX7t3D7y3QM
Healthy Fit Kids
Sample workout: https://youtu.be/5bRiuw6s9rQ
Aqua Fit
No sample workouts are currently available for Aqua Fit. Workouts will be recorded starting Spring 2021.
Register for our upcoming trainings: Reserve your spot!  
Bikini Body Camp 
HIIT - 30  
Barre and Yoga SHREDDED 
Athlete Strength Program 
Healthy Fit Seniors  
MMA Cardio Kick  
Stretch, Mobility and Recovery  
How do I choose?
Live Certification, Live online certification, or online self-paced course?
The Live certification is a great way to network with other gym professionals in your area, or escape for a day of focused training. If your gym is interested in hosting, you can earn free and discounted registrations.
If you prefer to work from the comfort of your home, then the live online certification option is the best choice.  You need to have wifi  access with webcam, preferably a laptop or cast to a TV so you can see well and interact with everyone. We will use ZOOM for the day.  You will participate in exercise, be able to ask questions, and interact with the other participants. We will get to practice cueing, form and technique, and cover the best tips and techniques for online virtual classes. 
The online course is best if you cannot commit to the full day training, the schedule is not convenient for you, or you prefer to work at your own pace.   You will be provided videos, reading, and practical activities to prepare yourself to teach the format. Go at your own pace, and review materials as needed.
What do you learn at a Certification Training?   
The certification training will prepare you to teach one of our formats. Each participant will receive a comprehensive instructor manual.

Participants will receive one full choreographed class in the format.  In the training, we will review the exercise protocol, cueing, form and technique of the movements, plus options for all fitness levels and abilities. Participants will learn how to motivate, encourage, and support clients through their interaction, inside and out of the gym. 
What do I need to know about the certification course?
Training is an 8-hour live program, or pace yourself via the online, asynchronous course

We offer continuing education credits or recertification credits for NASM, AFAA, and ACE. Our program can be submitted for CECs with other organizations as well.

To schedule a training, please email drkellabprice@gmail.com
Are there any prerequisites for the certification program?
No, participants will learn everything they need to know in our one-day certification. Based on where you teach, you may have coach, personal training or group fitness credentials. All participants should take a First Aid and CPR course prior to teaching their first course, and, if teaching independently, obtain appropriate insurance. 
Will I get certified the day of the training?
You will receive a certificate as an instructor once you submit your video sample. Participants will use what they've learned and practice for this demo.  Participants are assessed on cueing, exercise form and technique.  We will also provide feedback on modifications, and your motivation and engagement. Once the video is submitted,feedback will be provided and the instructor will

PASS

or

PRACTICE

. Those who need additional practice can resubmit. 
Register for our upcoming trainings: Reserve your spot!
Bikini Body Camp Oct 3
HIIT - 30  Sept 5
Barre and Yoga SHREDDED Oct 4
Athlete Strength Program Nov 7
Healthy Fit Seniors  Nov 21
MMA Cardio Kick  Nov 8
Stretch, Mobility and Recovery Sept 13
What happens after the certification?
Once certified, instructors are officially part of the Healthy Fit family and a part of a community of coaches, personal trainers, and group fitness instructors that are inspired to help others create healthier lifestyles. 

 

Our instructors do not need to subscribe to our monthly video content, but this provides an ongoing resource of workouts and supplemental materials to provide to your participants.  

Your gym and participants can also opt in to video access to practice routines at home, or to support ongoing exercise at times that they are away from your facility.

Healthy Fit will also periodically communicate through newsletters, a private Facebook group, and communication with our creator and Master Trainer team.
How often will I receive new releases for the workouts?
Certified Instructors receive new choreography every month and are automatically billed. Instructors will have access to releases online. Instructors receive exercise protocols, including modifications.  A full class video will be provided. 

 

We will have playlists available, or recommended music for your classes. 

 
Once I'm certified where can I teach?

Our classes can be taught anywhere...and with little equipment or what equipment you have available.

You can teach at a big-box gym, studio, school, park, even your own garage. We also provide support for virtual classes.

 
What kind of support will I get from Healthy Fit?
Once certified and a part of our Healthy Fit family, you can teach anywhere. Our creator, Kella Price, has even taught special events at resorts and wineries!

Our coaches, personal trainers, and group fitness instructors are invited to join the our private Facebook group page where ideas and information are shared.  We will provide ongoing resources and opportunities for professional development. 

Periodically, we will distribute newsletters with resources, recipes, ideas, tips, and tools for you to use.
If I wanted to become a "Master Trainer" for Healthy Fit, what is the process and what is the compensation?
We are actively recruiting for Master Trainers to teach LIVE and online LIVE certification courses, as well as present at conferences and special events to promote our brand. 

We offer professional development training and a competitive pay scale.

For more information on Master Trainer opportunities, contact our creator, Kella Price, at drkellabprice@gmail.com
What are the fees to gyms or studios?
There are NO licensing fees for our programs, making it an appealing option for all types of facilities. 

Healthy Fit REQUIRES clubs and studios to call classes by their brand name and use our  logos for marketing materials. Additional class flyers are also available, as well as promotional videos to support your class growth.  
If I have a gym or am the group fitness director, how do I schedule a training at my facility?
Contact us at

drkellabprice@gmail.com

and we can schedule your training. Normally, we like to schedule 10 weeks out to allow ample time to promote the event, but we can schedule closer to the date if you have a great need for the training and can fill it with motivated instructors.
As a gym or group fitness instructor, what support do I get for the classes?
In addition to the monthly releases, newsletters, private Facebook group and professional development offerings, we promote your classes and locations through our marketing channels.  

Be sure to tag us in your videos, social media posts so that we can support you. Using appropriate hashtags can make your content searchable.

We will also provide ready-made flyers and marketing that can be shared online and printed for distribution to make participant recruitment and engagement easy.  
About our creator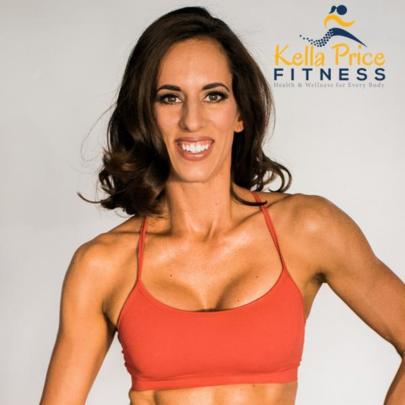 Dr. Kella B. Price has more than 20 years of experience in training, and an MS in Exercise Science and Wellness.  Kella has published on various topics, including stress and mental wellness. Currently, she is in the process of publishing a wellness book.  She regularly posts via Twitter and Instagram: @kellaprice. Kella speaks on topics such as: workplace wellness, weight loss, healthy lifestyle and balance, and exercise. Kella is a fitness and nutrition coach, with two nutrition certifications, an NASM Personal Trainer, ACE Group Fitness Instructor, and Speed and Conditioning Coach. She is a group fitness instructor,  teaching yoga and barre, strength and conditioning, HIIT, dance fitness, cardio kickboxing, step, bootcamps, aqua fit, as well as kids and senior fitness. She is also certified for Self-Myofascial Release, Integrative Corrective Exercise, Cancer Exercise, and Mental Health First Aid. Kella travels across the globe, teaching group fitness instructors and personal trainers as a Master Trainer for REVO₂LUTION RUNNING and her workout programs: HIIT-30, Barre and Yoga SHREDDED, Bikini Body Camp, Fit Seniors, Athlete Strength, Fit Kids, and Aqua Fit. She previously was a Master Trainer for Beachbody LIVE  and Barre Above before using her own expertise and education to create total body wellness programs.
Kella is  gym owner of Healthy Fit, with several locations and a virtual studio option. She is passionate about helping people improve their quality of life through fitness and nutrition. As a mom who got fat, then made a decision to make life changes, she lost 30 pounds with exercise and good nutrition. She is committed to teaching people healthy habits, and encouraging families to hold each other accountable and manage schedules to make exercise a non-negotiable. Her boys are often in tow for family fun exercise, including running local 5k and 10k races, as well as half marathons. As Executive Director for Healthy Fit Foundation (a 501c3), she is an advocate for providing accessible and free programs within the community.  Through community support and sponsorships, HealthyFit Party in the Park and Walk Wednesday provide no-cost community programs for all fitness levels and abilities.  Kella is often found in the community providing free events for families,children, and veterans through groups like Team RWB and organizes fitness events as fundraisers for local non-profit organizations like the Yuma Community Food Bank, Arizona's Children Association, and the Healing Journey. 
Kella has participated in a variety of fitness challenges, including a 65-mile bike race and a Rim-to-Rim 25-mile Grand Canyon Extreme Hike for the Cystic Fibrosis Foundation, the Marine Corps Marathon, Ragnar Relays (including an Ultra team) and the Yuma Territorial Half Marathon. She placed 1st in her age group for the  2017 Somerton Triathlon and 2018 San Luis Run for the Border Triathlon and 2nd overall in the Desert Heat 2017 Triathlon.  Kella is a Valkyrie Racing Team triathlete. She has competed in a Strongman competition, as well as weight lifting competitions, placing 3rd in 2016 for overall women and 3rd in Bench Press at MCAS Yuma. She is also a Nationally-qualified competitor with the NPC, and competes in shows in Fitness and Bikini. In 2017, she was one of only 4 athletes in the state to receive the Triple Crown Award. She has competed in the Beachbody Classic in Nashville, TN, where she was selected to appear in the Success Stories and Infomercial for Body Beast. She is also a featured Success Story for Hammer and Chisel and Beachbody on Demand. She has been featured on the Beachbody website and social media and appeared numerous times on TV as a health and wellness expert.  Kella strongly believes that fitness + nutrition + support = success .
Check out our Facebook pages!
Register for our upcoming trainings: Reserve your spot!
Bikini Body Camp 
HIIT - 30  
Barre and Yoga SHREDDED 
Athlete Strength Program 
Healthy Fit Seniors  
MMA Cardio Kick  
Stretch, Mobility and Recovery 
Revo2lution Running certification courses:  Contact Kella to schedule a course in your city or to attend virtually. Discount 10% with code KELLAPRICE
Groove it Fit: 
Become a GrooveIt Fit Instructor