Save the schedule on your device by right clicking the graphic.


Register for classes HERE.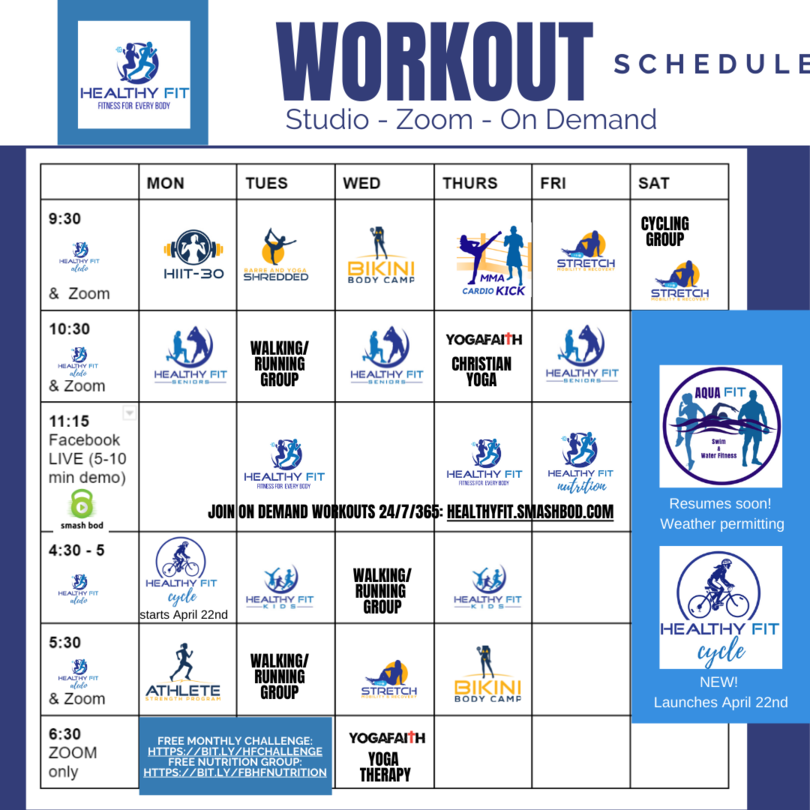 Triathlon Training:
As with most endurance sports, our triathlon training plans use periodization, working your body through training practice over a certain period, combined with cross-training to minimize overuse injuries, improve performance, and maintain mobility. The goal is to obtain the best possible performance on race day, and feel confident and great doing it! Depending on your specific race and distance, and your current fitness level, the training plan that you receive is customized to meet your goals. Our training plans incorporate the nutrition needed to grow and strengthen muscle and help your body repair and get stronger. Focused workouts and cross-training to meet your goal, whether training for a 5 or 10K, Cycle event, Triathlon or marathon.
---
Bikini Body Camp
Whether you want to be in a bikini competition or feel amazing in your swimsuit for your next family vacation, you can achieve these goals! The classes include total body workouts, with a variety of core and leg exercises to tighten and tone those areas. Get rid of flab, reduce inches and lose weight. Feel stronger, more confident, and comfortable in your own skin. Relieve stress and clear your mind of negative when you focus on your goals with us.
Our program uses state of the art equipment, including TRX, WeckMethod RMT Club, The Glute Pros and Strongboard Balance, to target and challenge the muscles for effective toning in a quick and effective workout.
Get fit in less than one hour - sign up for the 3 month program today! Includes meal planning, nutrition, and one-on-one coaching support.
---
HealthyFit Boot Camp
Challenge yourself with this fun and energetic calorie-blasting workout, using the a Boot Camp style approach. If you are new to exercise or just getting back into it, that's ok. You can go at your own pace and work your way up. Anyone, regardless of their age or ability, can participate in the camp. As you become stronger, we have options to continue to build your body and give you a great workout. The boot camp workouts are different all of the time, consisting of cardiovascular conditioning, strength training (weights, resistance bands, Glides, WekMethod RMT Clubs, and Strongboard Balance) and stretching/flexibility/balance. Each session varies the exercises and format for each workout to improve your physical condition and challenge your muscles. Each boot camp workout is a 1/2 hour long.
---
Fit Kids Camp
This is small group exercise and fitness training for kids. Boot camp fitness sessions meet for 45 to 60 minutes: We do a variety of exercise formats to create an atmosphere of FUN around working out. Depending on the weather, this outdoor/indoor program is designed for kids who need to exercise, prepare for a sports season, or just need to boost their self-esteem and confidence. The program includes cardiovascular training, weight training, balance and flexibility as well as components of health and wellness, like sleep and nutrition. This bootcamp will constantly challenge the kids by offering you consistent and positive motivational support. In addition, we play fun fitness games, like partner drills, obstacle courses, ball games, jump ropes, and more. A great way to get kids moving, stay fit and makes new some friends. Some of the benefits of camp include:

• Increased self-esteem & confidence
• Be more competitive in team sports & manage their own health and wellness
• Increase positive self-image
• Increase overall body-tone and feeling more comfortable in their appearance and clothes
• Increased concentration &    energy levels in school
• Decrease in mood swings
• Increased water consumption
• Decreased Stress and Anxiety levels associated with peer pressure, school, work & family living environments
• Improve sleep patterns
---
Healthy Fit Seniors
This class includes appropriate exercise options for the 50-plus age group. If you want to maintain an active lifestyle, this class is for you. Anyone, regardless of their ability, can participate in the camp. As you become stronger, we have options to continue to build your body and give you a great workout. The exercises are challenging yet recognize the needs of older adults who might have previous injuries or the beginnings of arthritis and/or osteoporosis. This program provides all the necessary tenets of a wellness program against aging, including resistance exercise to maintain strength and prevent bone loss, cardiovascular endurance to maintain a strong heart and lungs, and flexibility and balance to reduce the fear of falling or the risk of falls and enhance mobility.
---
---
Barre and Yoga SHREDDED
A high-energy, fun and challenging workout that will get your heart rate up, lift your tush and tone and tighten all the right areas. Whether we use a ballet-style barre, a chair, or do work center-floor, this class incorporates isometric movements, Pilates, yoga, high-intensity and strength, ballet, core work, cardio and resistance training achieving that awesome "I just worked my booty off [literally]" look while still being low impact on bones and joints. This workout is designed for wide range of fitness levels, ages and bodies, complete with progressions so those new to fitness feel successful their first time and seasoned Barre enthusiasts will always feel challenged.
---
Revo2lution Running/ Walking for Fitness program
REVO₂LUTION RUNNING™ takes advantage of the most popular exercise in the world with this one-of-a-kind running or walking experience! REVO₂LUTION RUNNING™ is a scientific and deeply inspirational group interval workout program. Whether you are just wanting to start running for your first 5K, or just want better cardiovascular strength and endurance, this class is for you. Runners and walkers of all fitness levels welcome.
---
THE SECRET BEHIND THE AMAZING REVO₂LUTION RUNNING™ WORKOUTS:


• SCIENTIFICALLY DESIGNED
• POLARIZED INTERVALS
• UNLIMITED REPS
• WORKOUTS CREATED TO TARGET THE 3 PHYSIOLOGICAL FACTORS OF RUNNING
• HARD IS HARD AND EASY IS EASY TO ACHIEVE PRECISE BALANCE OF STRESS AND RECOVERY
• REPS CONTINUE UNTIL YOU'RE
FATIGUED TO ACHIEVE THE BEST
ADAPTIVE RESPONSE
---
Christian Yoga
An introduction to basic Yoga and gentle stretching with a Christ-focus. If you have been curious about Yoga, but not sure about all the different poses, this is for you. Working on flexibility will greatly improve the health of your muscles (and mind!). Suitable for first time Yoga students, as well as, students with a little or a lot of Yoga experience.
Yoga helps a number of health conditions, including: Asthma, Respiration Problems such as Bronchitis and Emphysema, High Blood Pressure, Pain Management, Back Pain, Self-Awareness, Mental Performance, Diabetes, Mood Change And Vitality, Arthritis. Healing Yoga empowers veterans and service members and trauma survivors suffering from post-traumatic stress disorder (PTSD) to redevelop their mind/body connection and ease the symptoms of post-traumatic stress, being able to cope with triggers and reduce anxiety.
---
MMA Cardio Kick
MMA Cardio Kick is your countdown to a knockout body. It's the ultimate MMA-inspired workout that will knock out the belly fat, help slash inches off your waist and carve total body definition. Each move, whether it's a jab, kick or uppercut, works your core from every angle. It's more effective than traditional abdominal training to help you tighten up your entire midsection and carve a more defined waist. In three-minute "rounds", you'll get Boxing, Kickboxing and Muay Thai knee elbow combinations, body weight training and cardio spikes – all designed to help you lose the belly and shred body fat. No matter what your fitness level, you can punch, kick and sweat at your own pace.
---
Personal Training and Coaching
Work out with a trainer one-on-one and get customized workouts and extra attention to ensure proper form and maximum results! Sessions are tailored to your specific needs, abilities, and goals, and may include strength & conditioning, cardiovascular endurance, agility, flexibility and balance exercises. We measure your strengths and weaknesses with fitness assessments to track improvement of measurables through your program. Coaching includes other aspects of wellness besides exercise, including general health and nutrition. Want quicker, faster results? Don't delay, BOOK TODAY!
---
Integrative Corrective Exercise
Integrative Corrective Exercise is designed to:
• Assess movement
• Apply Corrective Movement strategy
• Reduce pain
• Improve mobility
Through the integrative corrective exercise process, we will complete a full movement assessment to design your exercise program. The exercise program will:
Align the Thoracopelvic Cylinder (TPC). This is essential postural alignment for breathing and effortless movement in daily activities, as well as exercise.
Create 3D Breathing. We ensure that you are able to employ full breathing, maximizing lung capacity and movement needed for higher intensity activities.
Develop an Optimal Neuromuscular Control Strategy. This will allow our body to use appropriate responses for low impact as well as higher-level load bearing activities.
Train Neutral Alignment and Control. This ensures proper positioning of the thorax over the pelvis and enables greater range of pain-free movement.
Optimize Coordination of the Myofascial System. We implement exercise movements that correct overactive superficial myofascial systems, and activate the deep myofascial systems that are necessary for motor control and stability.
This approach trains the muscles for control before training for strength. We create awareness of alignment, breathing, and control--and then follow with muscle activation. The last step is to integrate these concepts into fundamental movements needed in daily life: squat,lunge, bend, rotate, push, pull, gait, balance, and carry.
We work with a variety of clients who have either suffered injury, recovering from surgery, or have chronic pain. Some of the issues that Integrative Corrective Exercise programs can address are:
• Female Core. Women who have had a Cesarean, and struggle to feel their core "working" or have lower back pain.
• Knee, Ankle, or Foot injury or pain
• Shoulder issues. People who struggle with shoulder impingement, Forward head and shoulders, Headaches, chronic neck, upper back, and shoulder tightness or discomfort.
• Scoliosis
• Osteoarthritis
• Psoas and Glute function to improve mobility
Revo2lution Running certification courses:  Contact Kella to schedule a course in your city or to attend virtually. Discount 10% with code KELLAPRICE
Groove it Fit: 
An online membership for Groove-it Fit Class participants. Learn the routines, meal plans and recipes and get access to extra mini home workouts, only $10 per month
Access Groove It Fit Dance and Groove It Fit Flow workouts through on demand portal, Groovy Hub
Become a GrooveIt Fit Instructor
---
Pricing

Childcare available during sessions with certified childcare provider

Group Fitness
$55 per month or $100 for the whole family
$80 / 10 class punch card
$10 drop in


Consultation
$50/ 1 hour


Personal Training
$50/hr
8 sessions: $380 (save $20)
12 sessions: $570 (save $30)
16 sessions: $760 (save $40)


E-stimulation
(20 minute session, up to 2 treatment zones with infinite options in
mode and strength of stimulation)
$20
Compression legs Recovery Treatment
Our compression "Elevated Legs" system is the best in recovery, with compression
starting from your toes all the way to your hips. This allows the lymphatic and
cardiovascular system via the veins to pump the lactic acid from periphery to the
heart to speed recovery and filter the lactic acid out of the system, reducing
soreness, increasing mobility, and allowing for high levels of performance the next
day with "fresh legs". Adjustable zones and compression strength to suit your needs.
10 minutes: $10
20 minutes: $20
30 minutes: $25


Nutrition Appointment
$50/ 1 hour
Appointment includes:
• Nutrition journal and food intake analysis
• Calorie intake calculation and daily meal targets
• Dietary recommendations in alignment with medical conditions, including 
cancer, autoimmune diseases, and thyroid


Bootcamp Classes (3 month minimum commitment):
$50 registration fee, $149 per month
Includes: 
• Unlimited group fitness classes
• Nutrition consult
• Fitness assessment
• T-shirt or tank
• Logo cup
• Program printed materials, including daily journal and meal planning tools
Choose from:
Bikini Body Camp: focuses on core, leg and glute work to look great for your next vacation or special event, or to prepare for a bikini competition
Fit Seniors Camp: Total body workout to strengthen muscles, lose weight, and
improve balance
Healthy Fit Boot Camp: Total body workout to strengthen and tone muscles, lose weight, and feel better
Athlete training Camp: Focused workouts and cross-training to meet your goal,
whether training for a 5 or 10K, Cycle event, Triathlon or marathon
FitKids Camp: This is small group exercise and fitness training for kids. Designed for kids who need to exercise, prepare for a sports season, or just need to boost their self-esteem and confidence
Swim lessons $25 for ½ hour

Private parties
At your location, park, or at our studio.
$75+
Corporate events - Exercise sessions, nutrition consultations, and educational
seminars. Customized to your work environment and the needs of your employees
At your location, park, or at our studio
$125+
Corporate training - Educational seminars to improve the overall health and wellness of your employees. Customized to your work environment and the needs of your employees. Webinars, online support, one-on-one consultations, and workbooks available.
$125+

Discounts: military, first responders, paid-in-full, student, teacher, senior
Monthly gym class fees are waived for spouses of deployed military
THANK YOU for your service and sacrifice!